Project Info:
Location: Burns Harbor, Indiana
Role: Prime
Owner: Ports of Indiana
Client: Ports of Indiana
Construction Cost: $6,800,000
Services:
Quality Control and Assurance
Project Schedule Monitoring
Construction Change Order Coordination
Construction Engineering Inspection
Materials Testing
Construction Engineering Management
Railroad Coordination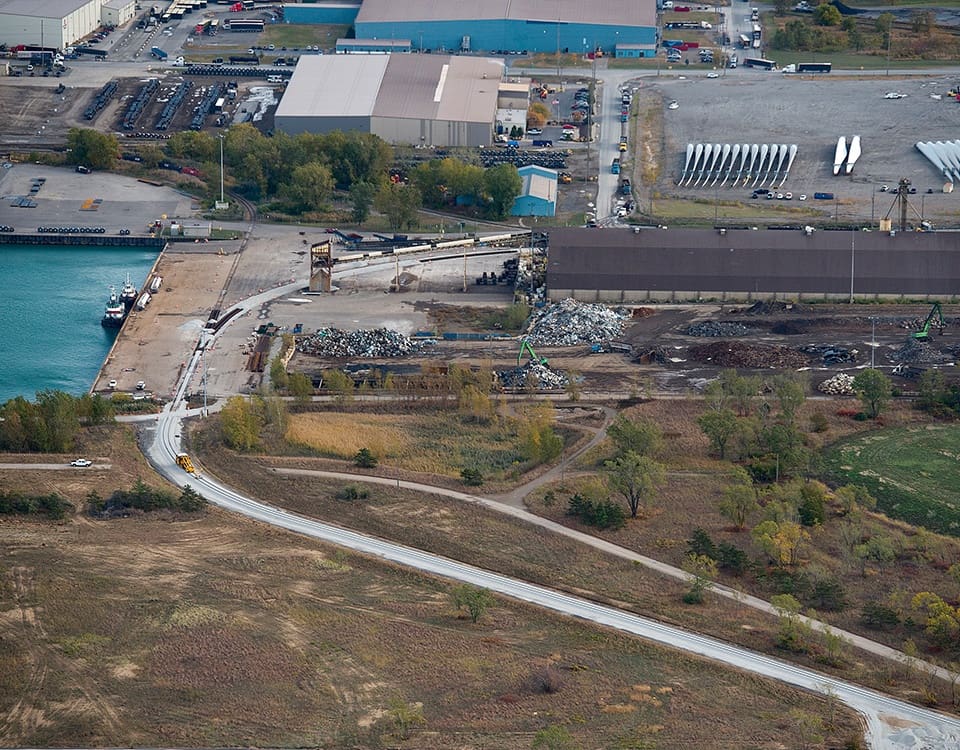 Using a federal grant under provisions of the Fixing America's Surface Transportation (FAST) Act, the Ports of Indiana is expanding the east side rail yard, constructing a new west side rail yard, and creating a new connection between the Port's main rail and the Norfolk Southern (NS) Railroad. Lochner has been hired to provide construction engineering and inspection services.
To accommodate the east side rail yard expansion, East Boundary Drive is being relocated to the west side of the rail facilities near the eastern border of the port. The expansion will increase the rail yard's capacity to hold 93 rail cars and leverage the port's new rail‐to‐water interface using a conveyor system and rail dump. The rail yard will also accommodate a 75‐car unit train, which is critical for increasing through‐put at the grain terminal and introducing new commodities. The new west side rail yard, which is being constructed on a 57‐acre U.S. Steel parcel, will accommodate 90 rail cars. When combined with the expansion of the east side rail yard, this project will increase the length of the port's rail storage to 2.3 miles. It will also allow a switch operator to provide multiple switches for port companies, potentially increasing the port's through‐put capacity by as much as 300 percent.
The project will connect the main rail and NS via the U.S. Steel easement and tie‐ins to the port's existing rail infrastructure at Berth 15 and along Sun Drive. This series of new connections will allow the port's rail freight to bypass congestion at NS's switching yard and more efficiently access the new west side rail yard. It will also create enough rail capacity for the port to take on switching duties, thereby reducing inefficient turns, mitigating existing delays associated with using an external switcher, and enhancing overall freight rail through‐put for the port.
Lochner's responsibilities include contract oversight and construction administration, including overseeing materials testing, implementing project financial controls, and inspecting all work as the project progresses.