Project Info:
Location: Pittsburgh, Pennsylvania
Role: Prime
Owner: Pennsylvania Department of Transportation
Client: Pennsylvania Department of Transportation
Construction Cost: $14,500,000
Services:
Controlled‐Access Highway (Non‐Interstate) Design
Bridge Replacement
Steel Beam Bridge Design
Pavement Evaluation/Design
Stormwater/Pavement Drainage Design
Guardrail and Safety Barrier Design
ADA Facility Evaluation/Design
Culvert Design
Retaining Wall Design
Scoping Process
Scour Investigation/Analysis
Structural Load Rating Analysis
Alternatives Development and Analysis
Utility Coordination
Accelerated Bridge Construction
Final Plans, Specifications, and Estimates (PS&E)
Maintenance‐of‐Traffic (MOT) Plan Development
Construction Phasing Plan Development
Recognitions:
2019 Association for Bridge Construction & Design (ABCD) Pittsburgh Chapter Outstanding New Multiple-Span Bridge Award
2020 Northeast Association of State Transportation Officials (NASTO) Best Use of Technology and Innovation Award, Small Projects
2020 American Society of Highway Engineers (ASHE) Pittsburgh Section Outstanding Highway Engineering Award, Category B (Projects Greater than $7 Million, Less Than $20 Million)
2020 Engineers' Society of Western Pennsylvania (ESWP) Project of the Year Award, Innovation
2021 American Council of Engineering Companies of Pittsburgh (ACEC/PA) Diamond Award for Engineering Excellence, Structural Systems
2021 American Society of Highway Engineers (ASHE) National Project of the Year Award, Under $20 Million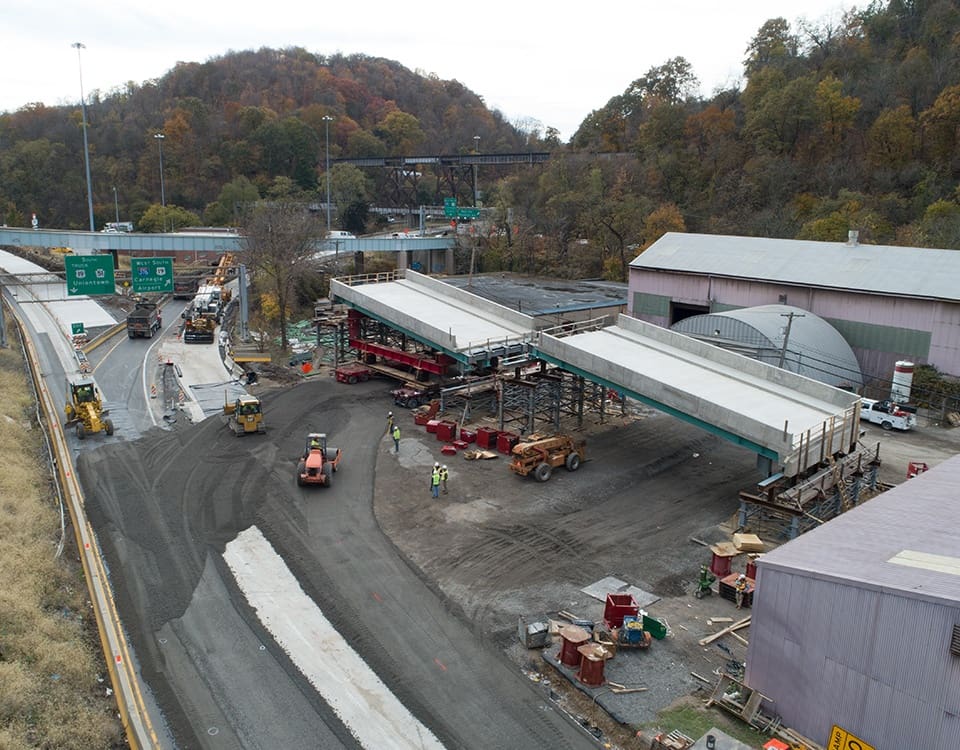 State Route 19 is a high‐volume, north‐south expressway that bisects southern Pittsburgh. The route carries an average daily traffic of 28,000 vehicles and is a much‐used connector to the Penn Lincoln Parkway (Parkway West). The Pennsylvania Department of Transportation (PennDOT) initiated a project to reconstruct a one‐mile section of SR 19, just north of the interchange with the parkway; the project area also included a three‐span, 180‐foot‐long steel I‐beam bridge over Shaler Street. As the project's lead engineer, Lochner provided design, incorporating the first use of self‐propelled modular bridge transporters (SPMTs) on a PennDOT project.
Lochner's design reconstructed the four‐lane roadway, including lowering the vertical profile in places to achieve clearance compliance, a median barrier, new guide rail, and an improved drainage system. For the Shaler Street crossing, Lochner designed a two‐span, 140‐foot‐long steel beam replacement structure.
A major goal of the project was to minimize traffic disruption during construction through this high‐volume area, which is the primary route from Pittsburgh's west end to the Pittsburgh International Airport. Lochner developed detailed construction phasing and maintenance‐of‐traffic plans to keep as many travel lanes open as possible throughout the construction period. Lochner also used accelerated bridge construction techniques to reduce the construction time and therefore cost. In addition, PennDOT allocated federal funding for Lochner to examine the feasibility of using SPMT bridge construction techniques for the Shaler Street bridge to substantially reduce the traffic impacts caused by bridge construction.