Project Info:
Location: Blue Island, Illinois
Role: Prime
Owner: City of Blue Island
Client: City of Blue Island
Construction Cost: $4,300,000
Services:
Bridge Replacement
Constructability Review
Construction Change Order Coordination
Construction Engineering Inspection
Construction Engineering Management
Contractor Compliance Monitoring
Erosion/Sediment Mitigation
Field Engineering and Inspection
Inter-Agency Coordination
Project Schedule Monitoring
Quality Control and Assurance
Shop Drawing Review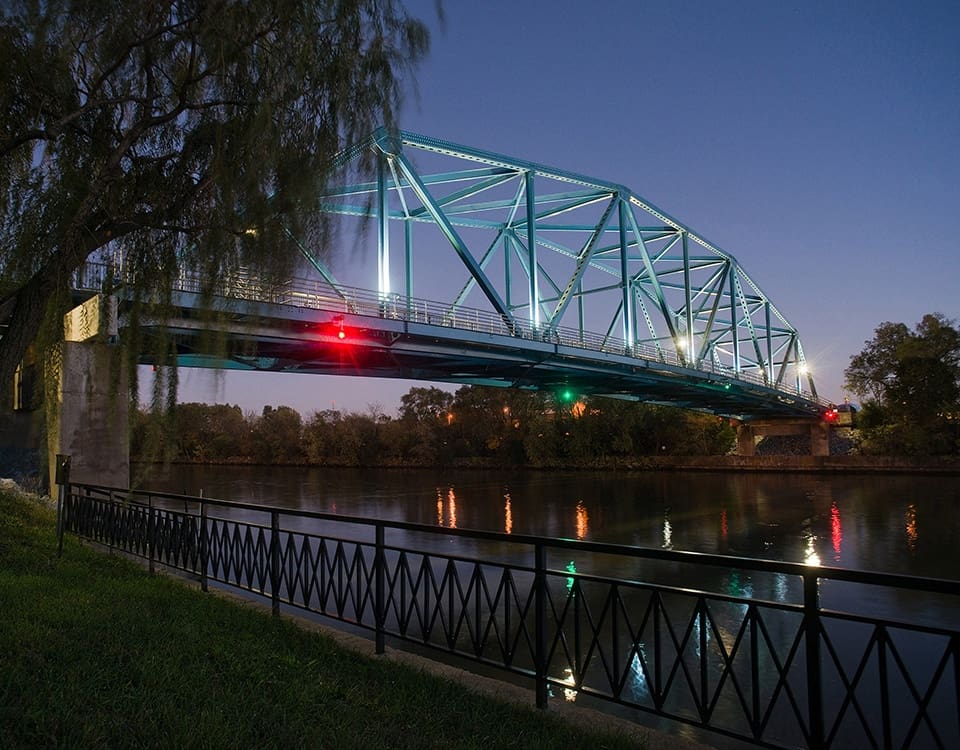 The 385-foot-long, 19-foot-wide bridge carrying Chatham Street over the Cal Sag Channel, a commercial waterway, comprises three steel beam spans and one steel truss span. The bridge had been closed to traffic as a result of safety concerns and is now rehabilitated for use as a multi-use bike and pedestrian path. Lochner provided construction engineering and inspection services for the rehabilitation project.
The construction work included the removal and replacement of the bridge's concrete deck, the replacement of damaged structural steel and concrete in the substructure, bearing replacement, and approach slab replacement. An existing water main was relocated to run along the outside of the structure, and riprap erosion protection was added to the embankments. Safety and aesthetic enhancements were made including the installation of navigational, roadway, and architectural lighting.
Lochner's services included contract administration, construction inspection, material sampling and testing, daily progress reporting, assurance of compliance with the required permits, assistance with contractor queries, the resolution of field issues, the preparation of progress payment estimates, and the evaluation and negotiation of change orders.