Project Info:
Location: Chicago, Illinois
Role: Prime
Owner: Chicago Department of Transportation
Client: Chicago Department of Transportation
Construction Cost: $28,000,000
Services:
Public Outreach/Involvement
Permit Acquisition/Coordination
Engineering Quantity Take-Offs
Structural Analysis
Construction Engineering Management
Construction Engineering Inspection
Contractor Compliance Monitoring
Shop Drawing Review
Progress Payments
Construction Change Order Coordination
Railroad Coordination
Utility Coordination
Recognitions:

2013 American Society of Civil Engineers National Recognition Award

2013 American Society of Civil Engineers Illinois Honor Award: Transportation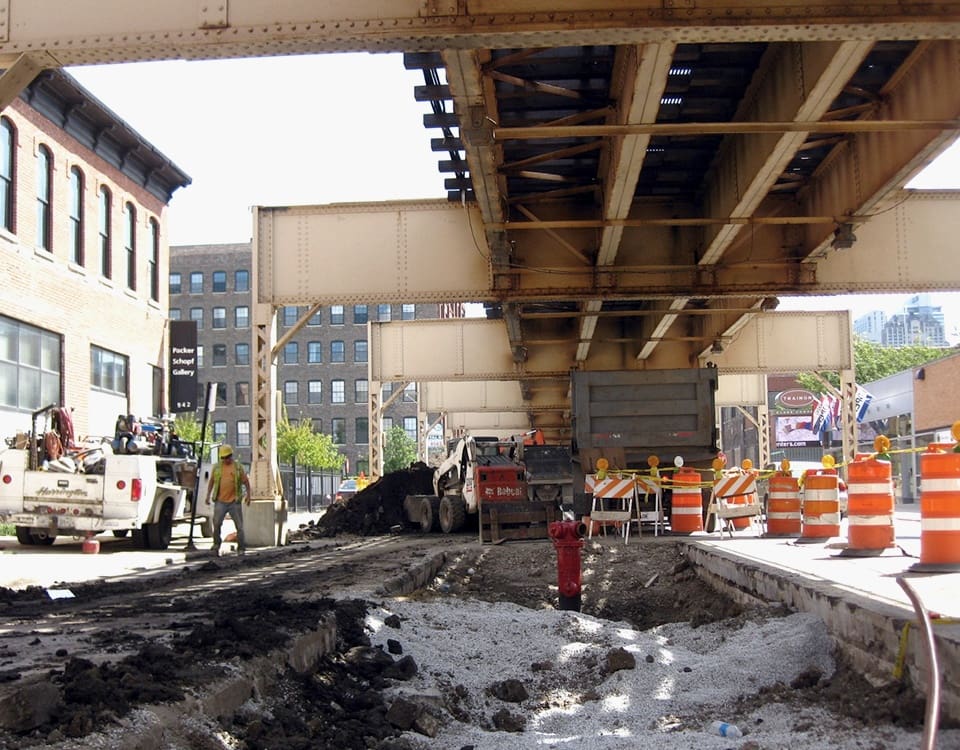 Lochner provided Phase III construction engineering and inspection services for the Morgan/Lake Street Elevated Chicago Transit Authority (CTA) Green/Pink Line station. The first Morgan Street station operated until 1948. With its closure, no Green Line stations remained in the West Loop neighborhood. However, from 2000 onward, the West Loop neighborhood had experienced significant growth, heightening the need for a new station. The new Morgan Street station is midway between the Ashland Avenue (1600 West) and Clinton Street (540 West) stops, which are 1.5 miles apart.
The scope of work for the Morgan Street station included the construction of a new elevated rail station with entrances and fare collection at grade on both the northeast and southeast corners of Lake Street and Morgan Street. Two platforms, two elevators, a transfer bridge, stairs, architectural finishes, station support rooms, communication, speaker and security systems, lighting, platform canopies, a concessionaire booth/customer assistance kiosk, and bike racks were also included. The station is ADA-accessible, with an elevator on either side of the tracks.
Lochner reviewed all submittals received from the contractor, provided an onsite Resident Engineer for the entire project, reviewed all shop drawings and material submittals, performed construction engineering services, and completed all inspection documentation and closeout of the project.