Project Info:
Location: Waterbury, Connecticut
Role: Prime
Owner: Connecticut Department of Transportation
Client: Connecticut Department of Transportation
Construction Cost: $280,000,000
Services:
Construction Engineering Inspection
Contractor Compliance Monitoring
Environmental Compliance Monitoring
Materials Testing
Field Engineering and Inspection
Project Schedule Monitoring
Utility Coordination
Construction Change Order Coordination
Recognitions:
2019 Northeast Association of State Transportation Officials (NASTO) Operations Excellence Award, Large Category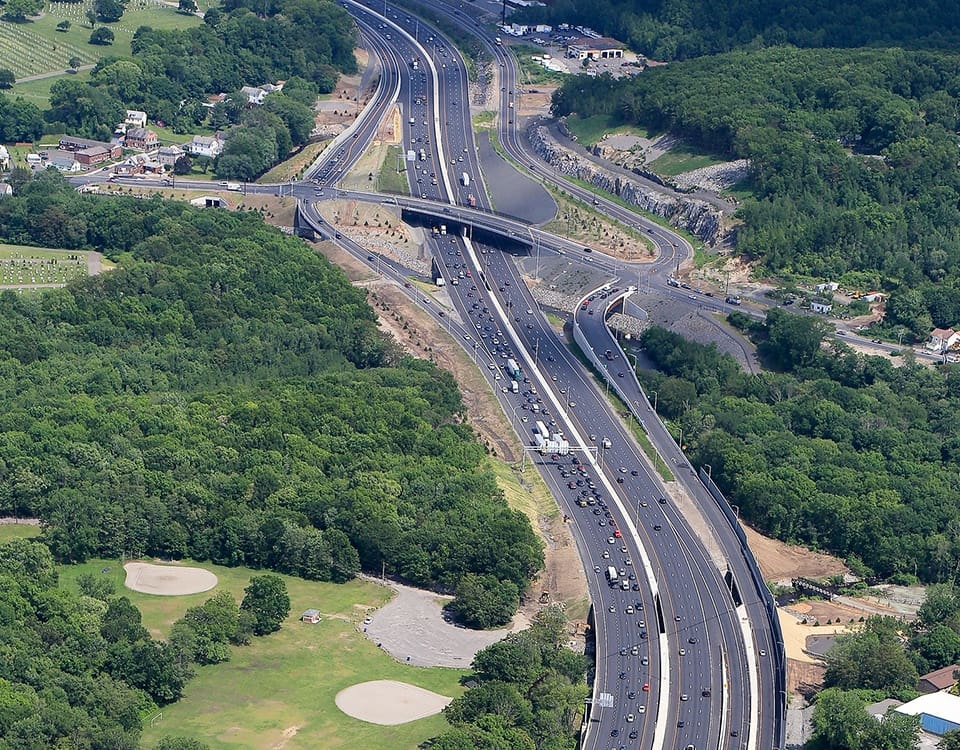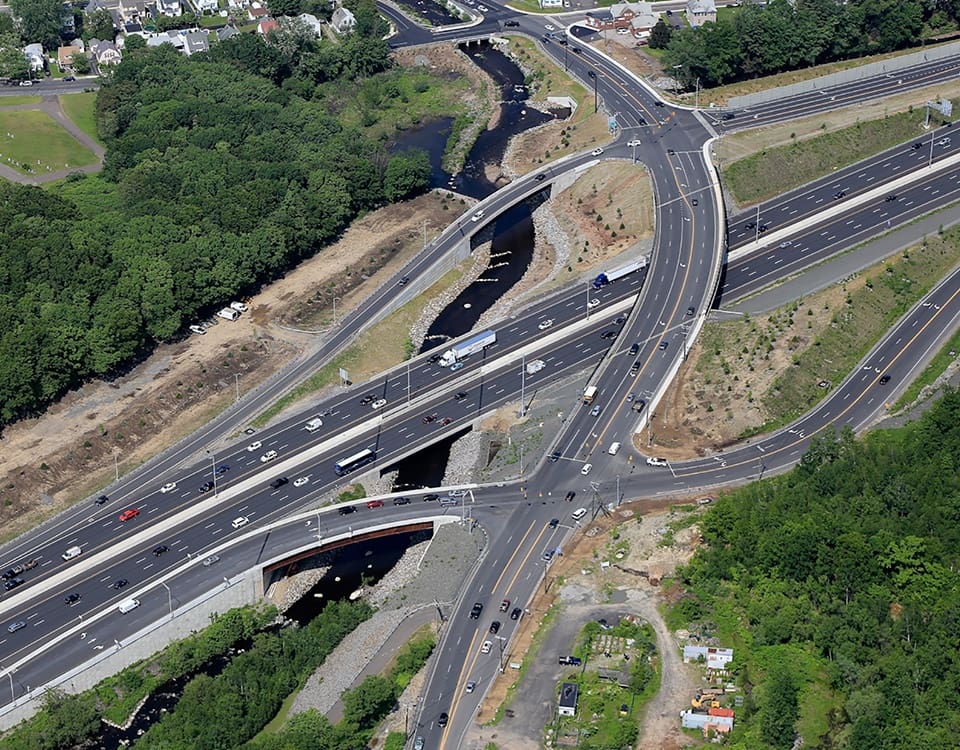 The 2.7‐mile section of I‐84 between Washington Street and Pierpont Road in Waterbury was a two‐lane facility and a well‐known bottleneck, as traffic had to merge from the three‐lane sections on either side. The Connecticut Department of Transportation (CTDOT) initiated a project to reconstruct this 2.7‐mile stretch of highway to provide a third travel lane in each direction. Lochner was CTDOT's construction engineering and inspection (CEI) consultant for the project.
The reconstructed roadway comprised 12‐foot shoulders and three 12‐foot travel lanes in each direction, separated by a concrete median barrier. In the vicinity of Harpers Ferry Road, approximately one mile of the highway was realigned to improve safety by removing a sharp reverse curve. A new 12‐foot auxiliary lane was constructed in the westbound direction between the on‐ramp from Harpers Ferry Road and the off‐ramp to Hamilton Avenue. In addition to the interstate reconstruction, Plank Road East was extended approximately 4,000 feet from Scott Road to Harpers Ferry Road; 2,000 feet of Reidville Drive was relocated; and portions of seven state and local routes were reconstructed. The project also included the replacement or construction of nine mainline and crossroad bridges, seven culverts, 20 retaining walls, and five noise walls. The bridges were steel plate girder structures and measured up to 450 feet in length. Several ramp revisions were also included: the construction of a new westbound on‐ramp from Harpers Ferry Road, the elimination of two short weave sections between on‐ and off‐ramps, and the relocation of the westbound off‐ramp to Scott Road.
To accommodate the roadway construction, the project included the realignment of the Mad River and Beaver Pond Brook channels and the relocation of East Mountain Brook at its confluence with Beaver Pond Brook. Environmental mitigation measures included the reestablishment of a perennial stream in the Mountain Village Road area, extensive in‐stream habitat enhancements in Mad River and Beaver Pond Brook, and the creation of 3.4 acres of new wetland.
Lochner provided a full range of CEI services for this high‐profile, five‐year contract, including contract administration, construction observation, material sampling and testing, environmental compliance monitoring, assurance of compliance with project specifications, daily progress reporting, schedule monitoring, assistance with contractor queries, the resolution of field issues, the preparation of progress payment estimates, and the evaluation and negotiation of change orders.