Project Info:
Location: Washington County, Utah
Role: Prime
Owner: Utah Department of Transportation
Client: Utah Department of Transportation
Construction Cost: $12,000,000
Services:
Highway/Roadway Design
Bike/Ped Facility Planning/Design
Parking Facility Design
NEPA Documentation
Categorical Exclusion Documentation
Section 106 Consultation
Stakeholder Facilitation
Public Meeting Coordination
Public and Media Outreach Material Development
Final Plans, Specifications, and Estimates (PS&E)
Recognitions:
2018 ASCE Southern Utah Branch Outstanding Civil Engineering Project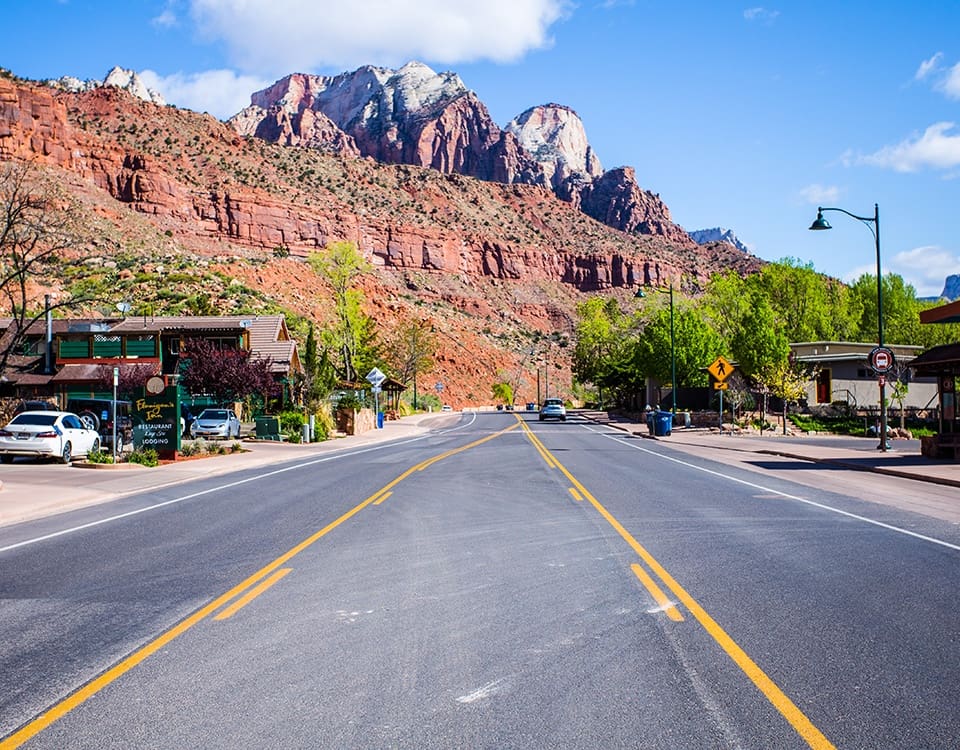 State Route 9 (SR 9) through Washington County was a two‐lane highway providing principal access to Zion National Park—a destination for more than 3 million visitors a year. Pavement deterioration between Rockville and the park was affecting the level of service of the corridor. Lochner led the design of pavement and safety improvements on this six‐mile section of highway.
Lochner's design encompassed three miles of pavement rehabilitation (overlay) through Rockville until just west of Springdale. The three miles of SR‐9 within Springdale was reconstructed to incorporate bicycle lanes on both sides of the roadway. Between the two towns, a one‐and‐a‐half‐mile section of the highway was widened to accommodate eight‐foot shoulders, suitable for the many cyclists and pedestrians who use the route.
Lochner's design avoided impacts to the numerous cultural, historic, and Native American sites located along the corridor. A 1992 earthquake caused a landslide that encroached on one section of the roadway, and to ensure that the potential for future movement was minimized, Lochner's design also avoided impacts to the toe of the landslide material. Due to the high volumes of tourist traffic that depend on the route for park access, all construction occurred during the winter off‐season. Lochner therefore developed design specifications for cold weather construction. Lochner also prepared the project's environmental documentation and led a significant public involvement program to inform stakeholders, local business owners, and the community of proposed construction and closures as well as solicit feedback on design.