Project Info:
Location: McCall, Idaho
Role: Lead Designer
Owner: Idaho Transportation Department
Client: Ralph L. Wadsworth Construction Company, Inc.
Construction Cost: $3,800,000
Services:
Design-Build Delivery
Bridge Replacement
Waterway Bridge Crossing
Accelerated Bridge Construction
Hydraulic Analysis/Design
Highway/Roadway Design
Bike/Ped Facility Planning/Design
Maintenance-of-Traffic (MOT) Plan Development
Accelerated Schedule
Recognitions:

2015 American Council of Engineering Companies Idaho Engineering Excellence Award: Structural Design

2015 American Society of Civil Engineers Transportation Project Finalist

2015 American Concrete Institute Excellence in Concrete Award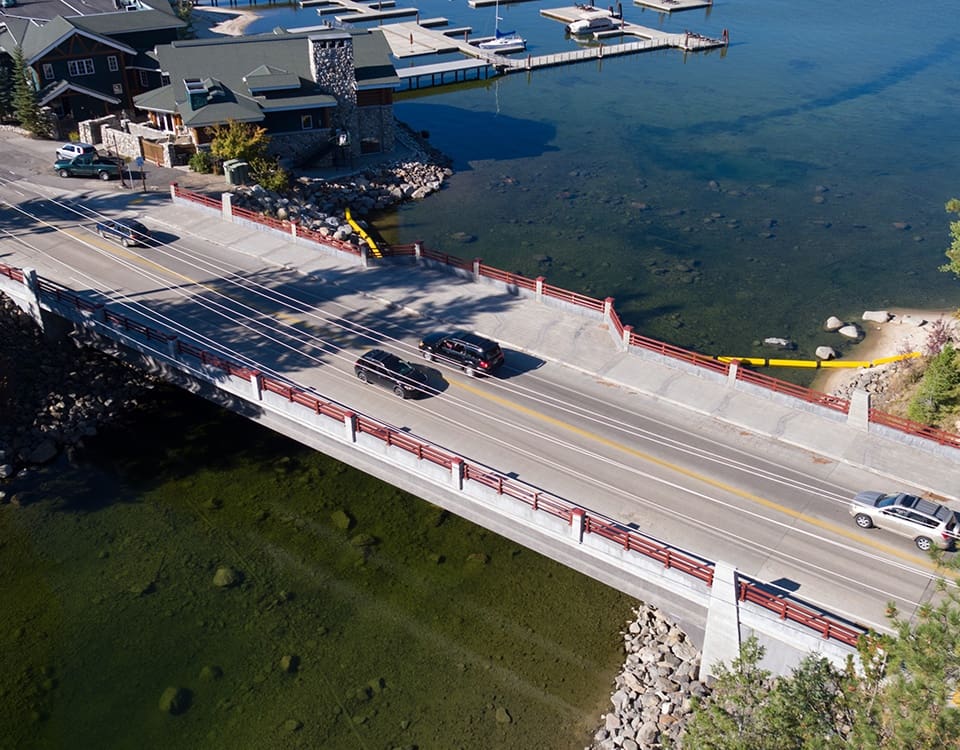 The previous Lardo Bridge, carrying SH 55 over the north fork of the Payette River in McCall—a popular summer and winter tourist destination—was a five-span concrete structure, constructed in 1931, that was approaching the end of its service life. The bridge was replaced in Idaho's first federal-aid funded design–build project, for which Lochner was the lead designer.
Lochner's design for the new bridge comprised a 158-foot-long, single-span concrete girder bridge with aesthetic detailing, pedestrian viewing platforms, and a wider roadway to accommodate sidewalks and bike lanes. The design of a single-span structure eliminated piers in the water and therefore reduced environmental impacts and maintenance costs.
As the bridge was located on a major tourist route, the City designated a limited four-month period (September to December 2014) during which traffic could be detoured. To meet this schedule, Lochner's design incorporated slide-in-bridge construction (SIBC) or "lateral slide"—an accelerated bridge construction technique in which the new bridge was constructed on temporary supports adjacent to the existing structure, then moved (or "slid") into position after the old bridge was removed. This project marked the first implementation of SIBC for a permanent bridge in Idaho.
Through the use of SIBC, the entire design-build project was completed in just nine months, and the bridge was closed to traffic for only six weeks, well within the four-month window. Innovative detailing of the abutment and footing allowed the abutment to be built with the superstructure on the temporary supports and entirely avoided construction within the tight confines of the existing back spans. The slide system used was non-proprietary and flexible, which reduced project costs and avoided the geometric constraints common in many SIBC projects. The project's design, innovative planning, materials, and construction methods combined to reduce construction time and construction impacts to the community, businesses, and the traveling public.