Project Info:
Location: Houston, Texas
Role: Prime
Owner: Texas Department of Transportation
Client: Texas Department of Transportation
Construction Cost: $1,200,000,000
Services:
Owner/Independent Engineer
DB/P3 Agreement Oversight
Public‐Private Partnership (P3) Delivery
Quality Control and Assurance
Project Schedule Monitoring
Program Management
Risk Analysis
Working Drawing Review
Engineering Consultation and Reports
Construction Claims Analysis
Contractor Compliance Monitoring
Design‐Build Delivery
Design Review Meeting Coordination and Documentation
Inspection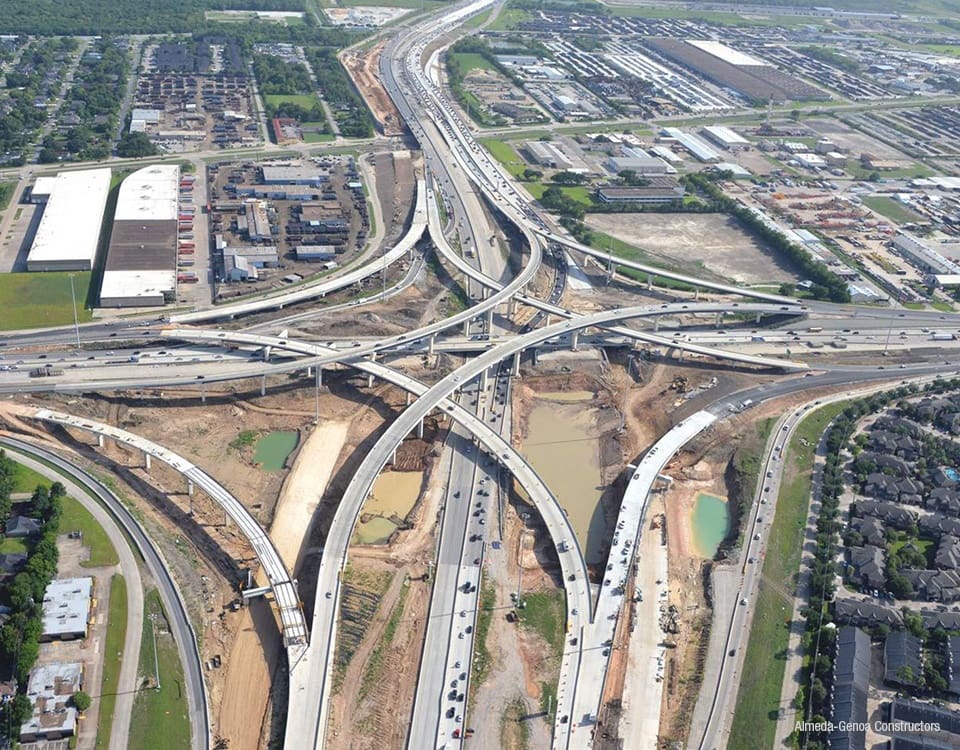 A hurricane relief route and vital connection to and from downtown Houston, SH 288 suffered from heavy commuter, freight, and trucking traffic congestion. Launched in 2016, the SH 288 Design-Build Expansion project improved the functionality of 10.3 miles of SH 288 from US 59 to Clear Creek south of the Harris/Brazoria county line. This $1.2 billion design-build project with Public-Private-Partnership (P3) delivery constructed four new toll lanes and improved three major intersections at Beltway 8, Loop 610, and the Texas Medical Center. These improvements included the construction of 18 new direct connectors at the three major intersections and the erection of 541 structural columns along the SH 288 corridor. To support the new toll lanes, 56 bridges were widened or improved, including the complete replacement of the Southmore Boulevard and Holly Hall Street bridges. All aspects of the project were built simultaneously over four phases of construction to achieve completion in 1000 days.
The SH 288 Toll Lane project was developed through a 52-year comprehensive development agreement (CDA). Partial federal funding was provided through a Transportation Infrastructure Finance and Innovation Act (TIFIA) direct loan, which was paid through toll revenue collected on the finished corridor.
The completed SH 288 provided improved mobility, expanded access, and congestion relief to the Texas Medical Center and downtown Houston through the addition of toll lanes and improved functionality of the interchanges along this corridor. It was also expected that the improvements to SH 288 would help bolster the downtown economy as well as reduce air pollution in the Houston area.
Lochner served as the Independent Engineer (IE) for the Texas Department of Transportation (TxDOT) on this project. As IE, Lochner reviewed developer submittals as well as monitored, audited, and inspected the developer's design, construction, and operations and maintenance (O&M) activities. As part of the IE scope of work, Lochner provided oversight, monitoring and reporting on developer CDA compliance and verification. This included project schedule reviews; public funding payment requests; reviewing/commenting on project submittals (e.g., maintaining a review/comment logging system) and project management plans (PMP); and safety compliance reviews. Lochner additionally provided owner verification testing for materials incorporated into the project's construction including writing the Quarterly Report; CDA process audits and contract oversight (e.g., nonconforming work, noncompliance events and points, and lane rental charges). Lochner's contingent duties included relief event determinations, compensation events, change requests, and dispute resolutions.
As TxDOT's IE on the SH 288 project, Lochner maintained a project-specific office in Houston where Lochner staff co-located with TxDOT personnel as well as providing off-site personnel for the project.