Project Info:
Location: Hardin County, Ohio
Role: Prime
Owner: Innogy
Client: Innogy
Construction Cost: N/A
Services:
Storm Sewer System Modeling
Bridge Rehabilitation
Hydraulic Analysis/Design
Stormwater/Pavement Drainage Design
Engineering Consultation and Reports
Structural Analysis
Culvert Design
Utility Coordination
Intersection Analysis/Design
Inventory and Condition Assessment
Data Collection
Cost Estimate Development
Structural Load Rating Analysis
Hydrologic Analysis/Design
Hydraulic Modeling
Geotechnical Investigation/Evaluation
Steel Beam Bridge Design
Geotechnical Engineering
Highway/Roadway Design
Bridge Replacement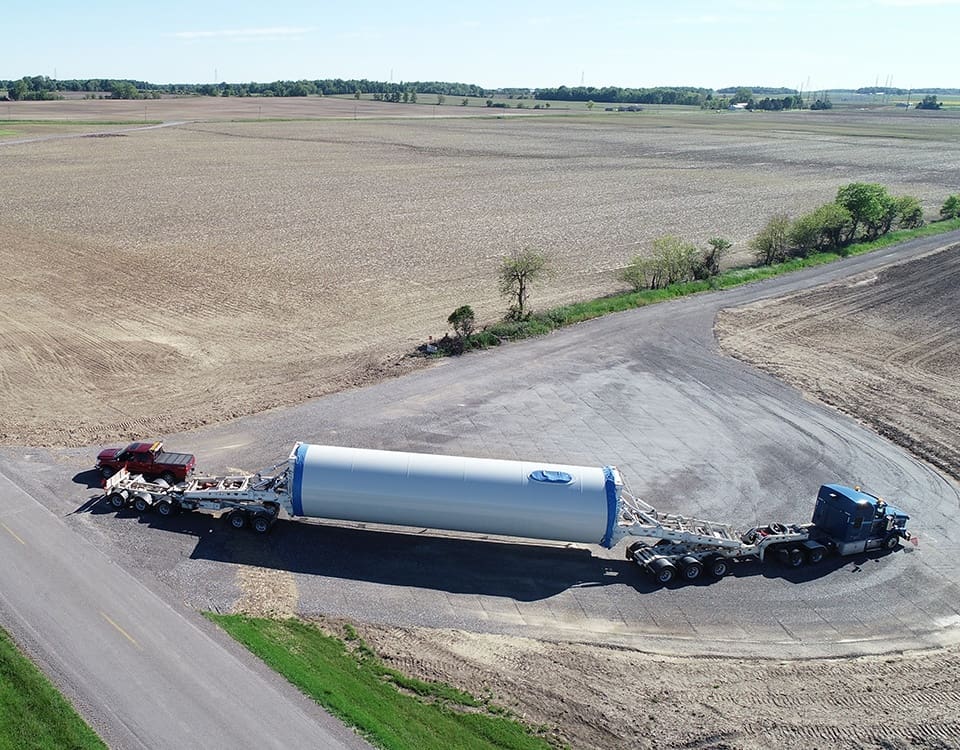 The Scioto Ridge wind farm owned by innogy and located in Hardin County, Ohio, is home to approximately 75 wind turbines. A key component of constructing the farm was delivering special live loads to the project site using surrounding infrastructure. These live loads included blades up to 211 feet long and weighing 31,200 pounds as well as nacelle units weighing approximately 250,000 pounds. To accommodate the deliveries, innogy initiated a project to address roadway deficiencies along the route and divided it into eight tasks. Lochner was hired for all eight tasks, which included evaluating existing roads and bridges along the preferred delivery route, designing roadway improvements that would maximize the deliveries' safety and efficiency, and providing construction engineering services.
At project let, innogy provided Lochner with access road locations and desired routes for delivery. The selected corridors were surveyed using LiDAR, and Lochner used the resulting data to determine roadway surface conditions. Considerations included roadway obstructions or constraints, the safety of existing bridge conditions and capacity, locations where wide turns required modifications, and utility issues, including overhead lines with insufficient clearance or underground lines needing additional protection. Pavement coring and a dynamic cone penetrometer (DCP) were used to verify the strength of the existing roadway and identify locations with inadequate structural strength for the anticipated truck traffic. This information along with design recommendations, permits, and cost estimates comprised the final delivery route plan.
Lochner proposed replacing an existing slab structure with a precast concrete box culvert and rehabilitating the superstructures of two existing bridges. Lochner also suggested adding a one-and-a-half-inch asphalt overlay to the roadways on the proposed route upon project completion. With the help of innogy and Hardin County engineers, the project team developed a construction monitoring plan for the proposed route and an emergency procedure plan to define the appropriate actions needed should safety issues arise during construction. Once innogy and Hardin County approved Lochner's proposed solution, the project team developed the design, plans, and specifications as well as a detailed cost estimate and other necessary documents.
The project team was also responsible for the final maintenance and protection of traffic plan for each corridor along the proposed delivery route using a combination of three methods: temporarily closing affected corridors to all vehicles except local traffic, conducting temporary 15-minute closures to complete construction activities, and maintaining a single lane of traffic with a flagging operation. The varied approach allowed the contractor to safely complete construction tasks while minimizing impacts to the traveling public.
During the implementation of roadway improvements, Lochner provided construction engineering services. The team reviewed and approved all shop drawings and advised the contractor during the replacement and rehabilitation of bridge structures.