Project Info:
Location: Orange County, California
Role: Joint Venture, Design Lead
Owner: Orange County Transportation Authority, Caltrans
Client: OC 405 Partners
Construction Cost: $1,300,000,000
Services:
Design-Build Delivery
Design Management
Accelerated Schedule
Interstate Design
Interchange Design
Structural Design
Bridge Replacement
Maintenance-of-Traffic (MOT) Plan Development
High Occupancy Vehicle (HOV) Facility Planning/Design
Retaining Wall Design
Quality Control and Assurance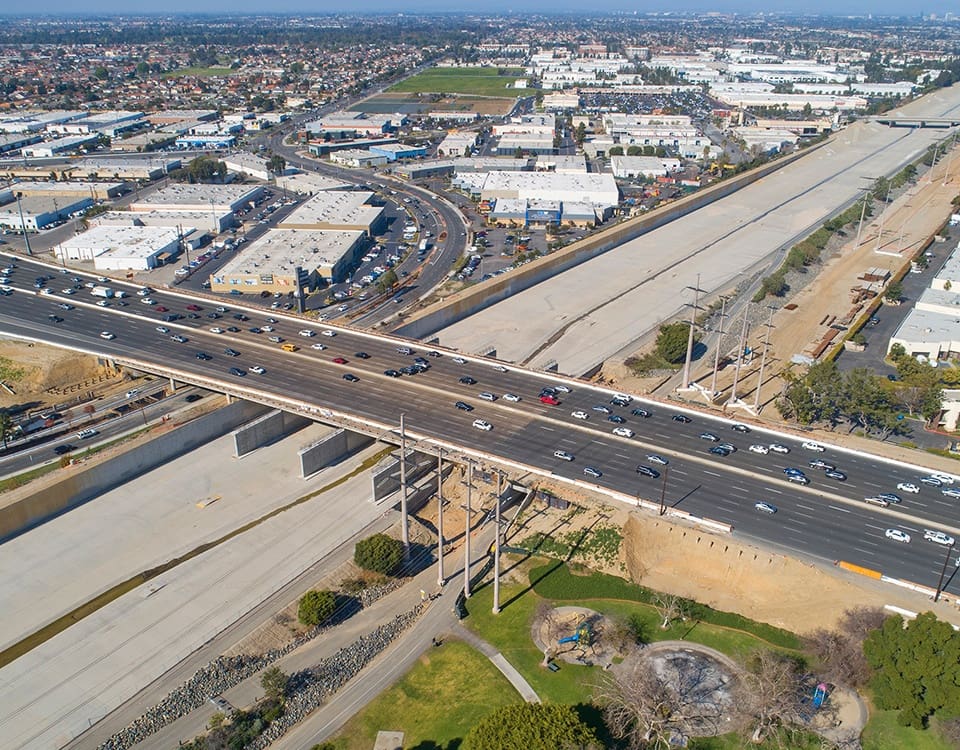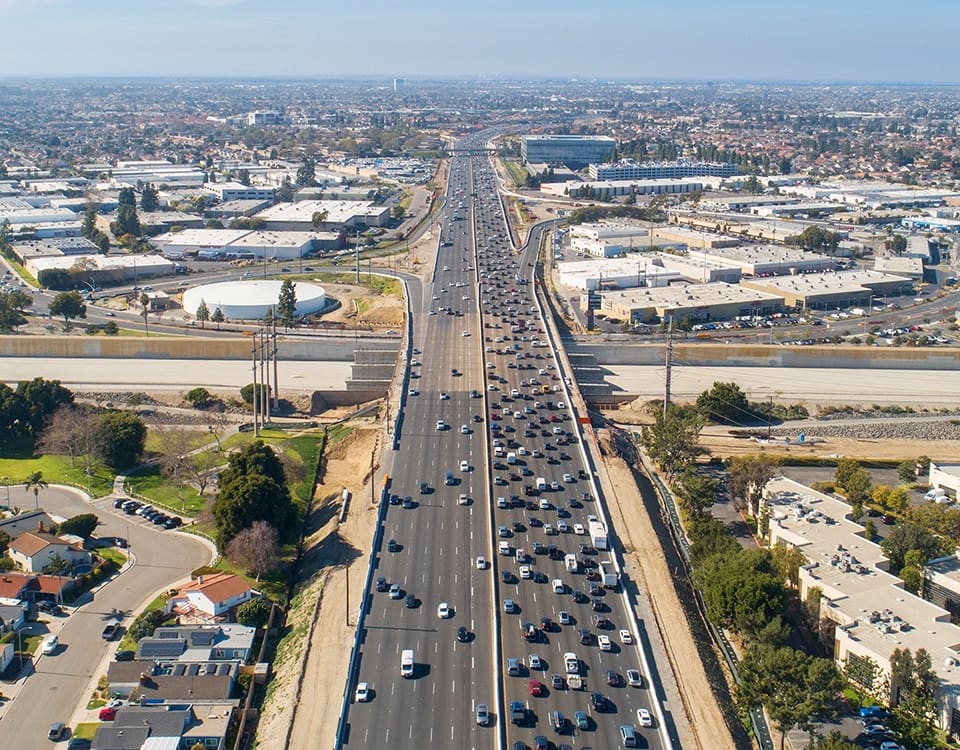 Orange County Transportation Authority's (OCTA) $1.9 billion program will implement the widening of 16 miles of the San Diego Freeway (I-405), from SR 73 to the I-605 interchange. As part of this design-build, additional improvements will include adding one general-purpose lane in each direction, making freeway entrance and exit ramp adjustments, and replacing/modifying approximately 34 bridges.
To accommodate high levels of traffic within limited right of way, the project will use existing infrastructure to add 405 Express Lanes. These lanes will incorporate existing carpool lanes and connectors (which opened in 2014), reducing costs, minimizing project impacts, and providing improved travel options for those who carpool. These express lanes will also include an additional toll lane in each direction to provide single occupant vehicles an option for speeding up their commute.
To meet key milestones and ensure final design completion of OCTA's largest project to date, the project team is collaborating directly with the State of California's Department of Transportation (Caltrans) through an over-the-shoulder review approach. This expedites the review process and allows design issues to be discussed and addressed early on. To meet the aggressive schedule, Lochner formed an internal team of qualified and experienced designers who understand designbuild project delivery and who are familiar with Caltrans District 12 standards and requirements. This approach has benefited the project team and enabled design to progress quickly towards review and approvals.
Design efforts are led by Pacific Infrastructure 405 Designers, a joint venture comprised of Lochner, Moffatt & Nichol, and Arup, with Lochner providing design management for the entire design development. Lochner is leading the design for two sub-segments of the project between SR 73 and Ward Street. Improvements through these segments of the corridor include design for the SR 73 Junction and the interchanges at Fairview, Harbor, and Euclid as well as 10 bridges, retaining and sound walls, earthwork, drainage, Portland Cement Concrete (PCC) pavement widening, barrier, and roadway finishes.
A comprehensive environmental management plan was developed in collaboration with OCTA that includes how environmental commitments are implemented and tracked, how the project complies with laws and regulations, and how environmental goals will be met.
The construction staging and maintenance of traffic (MOT) approach breaks the project into three construction segments using city boundary lines. The project team will work in all three segments concurrently with each joint venture team member working on a segment using a detailed Transportation Management Plan (TMP) to maintain safety for the traveling public and construction team members. In developing the TMP, the team worked with OCTA to gather input from local agencies along the corridor. This input was used to customize the TMP and develop detailed plans for guiding vehicles, bicycles, and pedestrians through the corridor safely throughout construction.
Due to the scale and complexity of the project, it has been required that all plans, reports, schedules, and additional project documents are prepared within a combined system, ProjectWise, to facilitate the design and completion of all deliverables. Lochner is managing all aspects of ProjectWise implementation not only for the designers but also for the entire design-build team.
The large scope of this project also requires excellent quality management. Because it is a team commitment, each of the project team members is responsible for maintaining a high level of quality within their work and the review process. Additionally, the design management team implemented a Quality Management Plan (QMP), which includes a design, review, and approval process specific to the complexities of this project and the standards and requirements of the governing agencies.