Project Info:
Location: Cook and DuPage Counties, Illinois
Role: Prime
Owner: Illinois State Toll Highway Authority
Client: Illinois State Toll Highway Authority
Construction Cost: $160,000,000
Services:
Construction Engineering Management
Construction Engineering Inspection
Bridge Rehabilitation
Project Schedule Monitoring
Accelerated Schedule
Quality Control and Assurance
Field Engineering and Inspection
Shop Drawing Review
Inter‐Agency Coordination
Utility Coordination
Utility Inspection
Construction Change Order Coordination
Erosion/Sediment Mitigation
Construction Claims Analysis
Agency/Stakeholder Coordination
Airport Rules and Regulations
Railroad Coordination
Contractor Compliance Monitoring
Construction Engineering Design
Constructability Review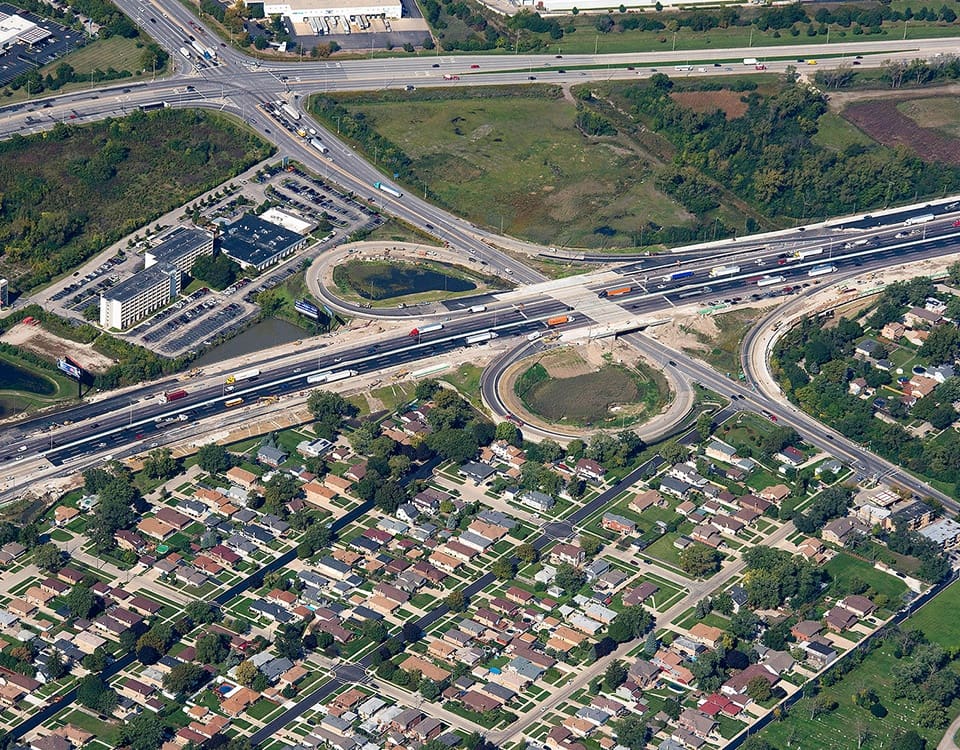 The Central Tri‐State (I‐294) corridor leads to the main entrance of O'Hare airport and is the most heavily traveled section of the Illinois Tollway system. Because much of the infrastructure is from the original construction in the 1950s, the existing four‐lane roadway includes multiple bridges at the end of their service life, lane merging locations in need of updating, and narrow shoulders, all of which cause daily traffic backups. To provide congestion relief as well as meet current and future demands, the Illinois Tollway initiated a $160 million project to rehabilitate and widen the corridor between Wolf Road to Balmoral Avenue. Lochner was selected to provide Phase III engineering services, which include construction inspection and supervision.
To address substandard conditions and congestion, the corridor's pavement and shoulders will be repaired and rebuilt, and the existing four lanes will be widened to five. Additionally, the roadway's intelligent transportation system (ITS) will be enhanced to include the installation of new Bluetooth readers, a microwave vehicle detection system (MVDS), and upgraded CCTV cameras. The roadway's mainline bridges over Irving Park Road and Lawrence Avenue will be reconstructed, and the local crossroad bridges carrying Wolf Road and Balmoral Avenue will be rehabilitated. The Canadian Northern and Bensenville Railyard Bridge will also be rehabilitated with deck overlays, foundation repairs, and beam painting.
Stakeholder coordination is a key component of this project. In addition to documenting performed work and project issues, Lochner provides daily reports of contact with stakeholders, including the Canadian Pacific Railway, the Soo Line Railroad, the Illinois Department of Transportation, and Cook County as well as various utilities and local agencies. Because the O'Hare International Airport is adjacent to the project limits, Lochner is coordinating with the Chicago Department of Aviation regarding lane closures and traffic impacts, including contractor equipment height restrictions during bridge and pavement construction. Early coordination with the railroads was also critical to obtaining agreements on contractor access, work zone clearances, and work windows. To promote ITS continuity and resolve conflicts, Lochner also communicates daily with contracts adjacent to or within project limits.
Additionally, Lochner is providing maintenance of traffic, which includes performing daily traffic control inspections, reporting on current lane configurations, requesting lane closures, and resolving any traffic control conflicts between projects. The team is also responsible for leading weekly progress meetings, performing on‐ and off‐site material testing, providing constructability reviews to determine clashes and constraints, modifying plan drawings to represent changes in proposed work, documenting and creating change/extra work orders, providing measurements and documentation to create pay records, reviewing contractor submittals and requests for information.