Project Info:
Location: Oklahoma City, Oklahoma
Role: Prime
Owner: Oklahoma City
Client: Oklahoma City
Construction Cost: $689,462
Services:
Bridge Replacement
Prestressed Concrete Girder Bridge Design
Hydraulic Analysis/Design
Hydrologic Analysis/Design
Hydraulic Modeling
Improvements/Drainage (Surface & Subsurface)
Final Plans, Specifications, and Estimates (PS&E)
Bidding Phase Services
Construction Engineering Management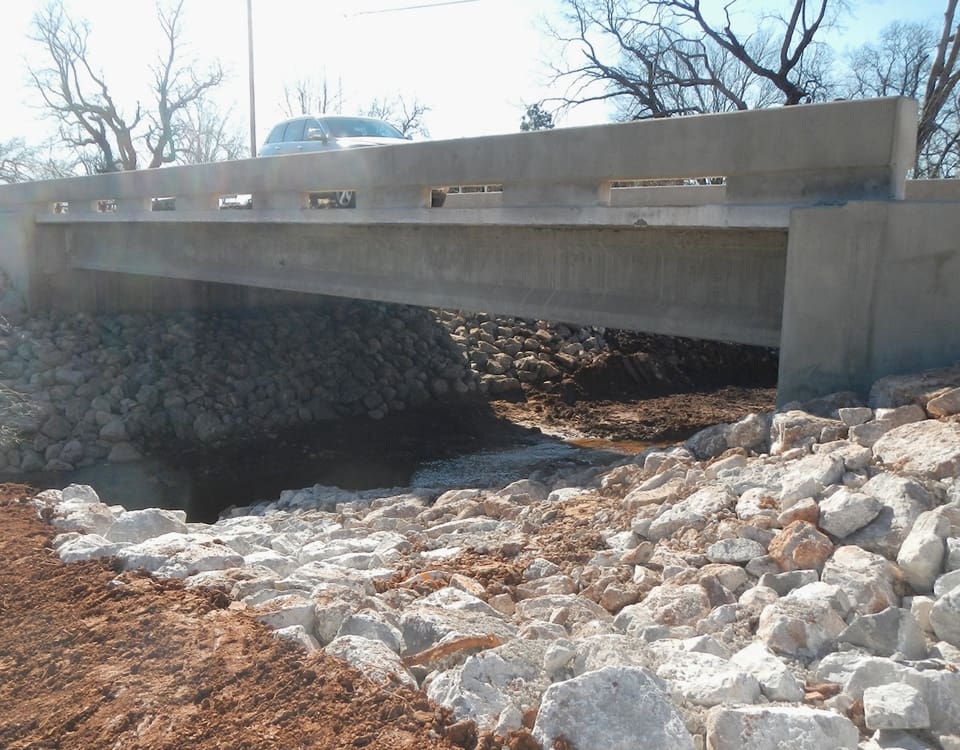 The bridge carrying Frisco Road over Deer Creek Tributary 12 in Oklahoma City was a 50-foot-long, single-lane double-T structure. In addition to the substandard width, the bridge was exhibiting rotation in the abutments. Lochner provided design services to replace the bridge with a wider structure that would carry two lanes of traffic.
Lochner performed hydraulic analyses and developed preliminary and final design plans for a replacement structure that would increase the bridge width from the existing 15 feet to 36 feet (sufficient to accommodate two traffic lanes and 6-foot shoulders). The new bridge was designed as a single-span Type III prestressed concrete beam structure, with a length of 75 feet. Traffic was detoured during construction, and Lochner prepared all required detour and traffic control plans. Lochner also assisted the City with the bidding phase and provided construction management services.