Project Info:
Location: Statewide, Oklahoma
Role: Prime
Owner: Oklahoma Department of Transportation
Client: Oklahoma Department of Transportation
Construction Cost: N/A
Services:
Structural Design
Highway/Roadway Design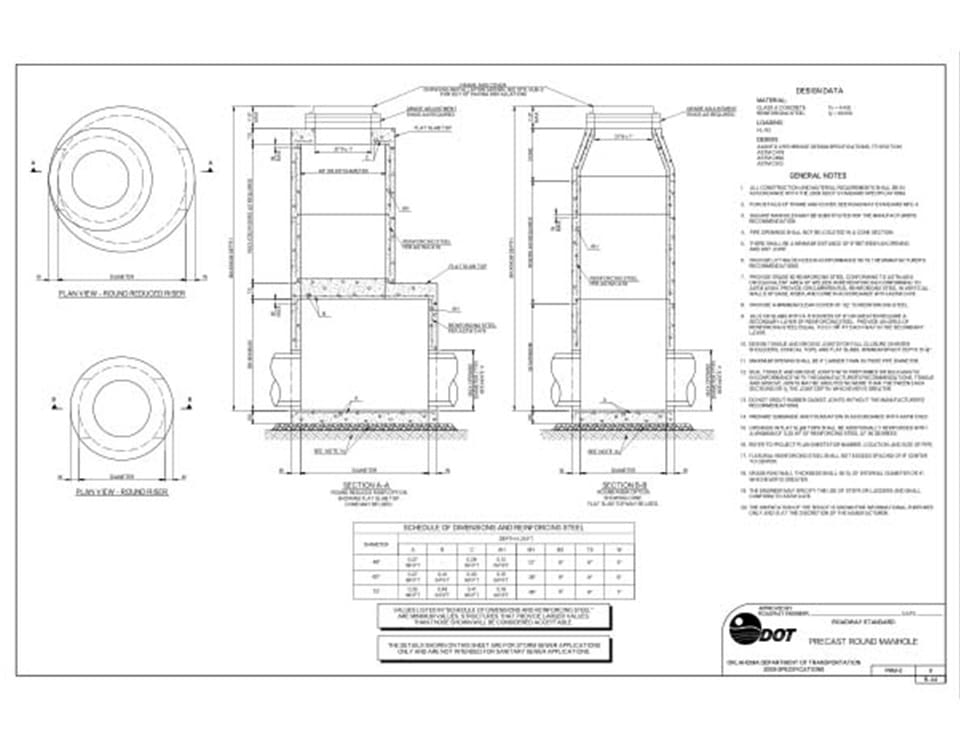 To streamline the approval process for designing on-system storm sewer structures, the Oklahoma Department of Transportation (ODOT) hired Lochner to develop precast standards.
Prior to the project, ODOT design teams applied cast-in-place standards to the design of precast storm sewer structures. Contractors preferred the use of precast to help speed construction and routinely proposed precast structures which required the approval of the ODOT Roadway Drainage Engineer. Reviewing the shop drawings and calculations for each structure became a time-consuming process due to the number of changes requested by the contractors and in turn burdened the ODOT staff from being able to address other needs. Development of a precast storm sewer structure standard allowed the shop drawing process to be expedited in only needing to review the structure flowline elevations. Ultimately this reduced the workload for the ODOT staff and enabled the staff to address other pressing needs within the organization. Lochner's development of precast standards included extensive research on precast standards written by other departments of transportation, including the Washington Department of Transportation, Utah Department of Transportation, Arizona Department of Transportation and Texas Department of Transportation.
Lochner coordinated meetings and facilitated discussions with local manufacturers, contractors and ODOT design, construction and field personnel to determine the most appropriate direction that addressed concerns from all stakeholders. Early in the project, Lochner identified the most common structure sizes and developed preliminary constructability details. This method was used to maintain the project schedule and sought to obtain direct input before the design started. All concerns were addressed at the beginning stages of the project which allowed the design to move forward and prevent the final drawing from favoring any particular manufacturer. The final deliverable to ODOT consisted of a precast alternative for each cast-in-place storm sewer structure.