Project Info:
Location: Boone County, Kentucky
Role: Prime
Owner: Kentucky Transportation Cabinet
Client: Kentucky Transportation Cabinet
Construction Cost: $14,000,000
Services:
Single Point Urban Interchange (SPUI) Design
Visualization
Bike/Ped Facility Planning/Design
NEPA Documentation
Noise Analysis
Highway/Roadway Design
Controlled‐Access Highway (Non‐Interstate) Design
Public Outreach/Involvement
Utility Design
Signing Design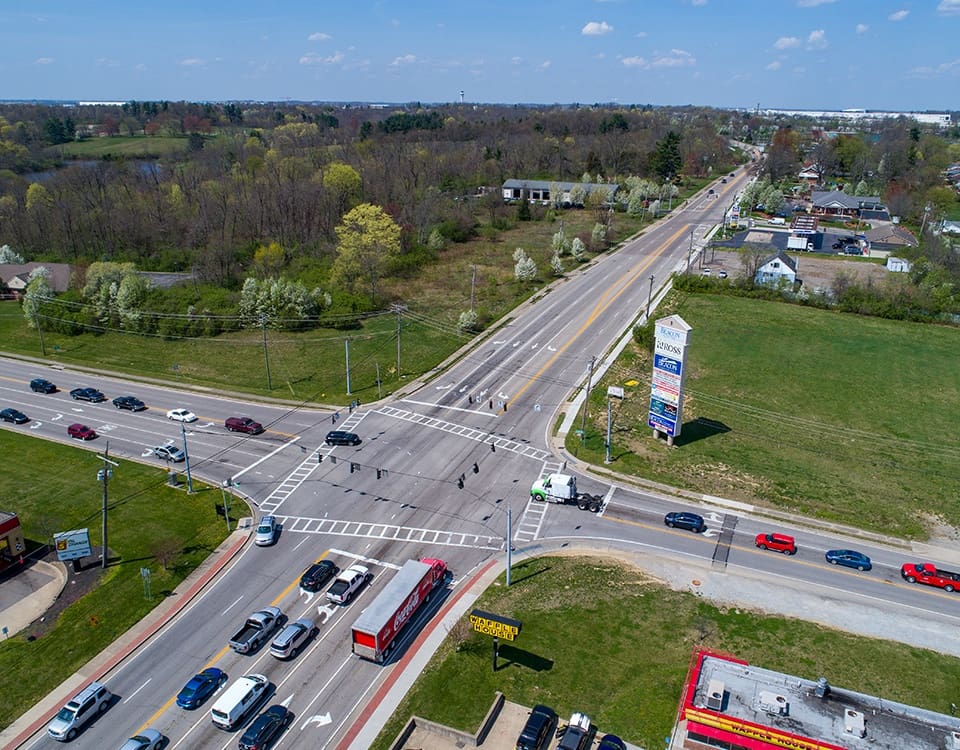 The $1.5 billion expansion of Amazon's air hub at the Cincinnati/Northern Kentucky Airport (CVG) and Boone County's projected population growth will put a heavy demand on local infrastructure. As part of Boone County's transportation plan, KY 236 (Donaldson Highway) and KY 3076 (Mineola Pike) will be widened and converted to the main freight access for Amazon's Air Hub. Lochner was hired to provide design.
Lochner's design will convert Donaldson Highway to be the direct entrance to the Amazon Air Hub with a grade‐separated intersection at Mineola Pike. This approach will reduce delay to and from I‐275 and I‐71/75 for employees and freight. Lochner is also designing a single point urban interchange (SPUI), which will enable inbound and outbound trucks to maneuver to and from both interstates. Donaldson Highway and Mineola Pike will be reconstructed to a five‐lane roadway with a two‐way center turn lane. To provide a recreation and pedestrian commuter facility for those who live near and work at the airport, the Lochner team is working with KYTC to design a multi‐use trail on both sides of Donaldson Highway and Mineola Pike as well as Turfway Road and Aero Parkway that will eventually tie into the CVG Loop Trail.