Project Info:
Location: Sammamish, Washington
Role: Prime
Owner: City of Sammamish
Client: City of Sammamish
Construction Cost: $24,000,000
Services:
Highway/Roadway Design
Intersection Analysis/Design
Roundabout Intersection Design
Bike/Ped Facility Planning/Design
Culvert Design
Lighting Design
Landscape Architecture
Final Plans, Specifications, and Estimates (PS&E)
Alternatives Development and Analysis
Right of Way Acquisition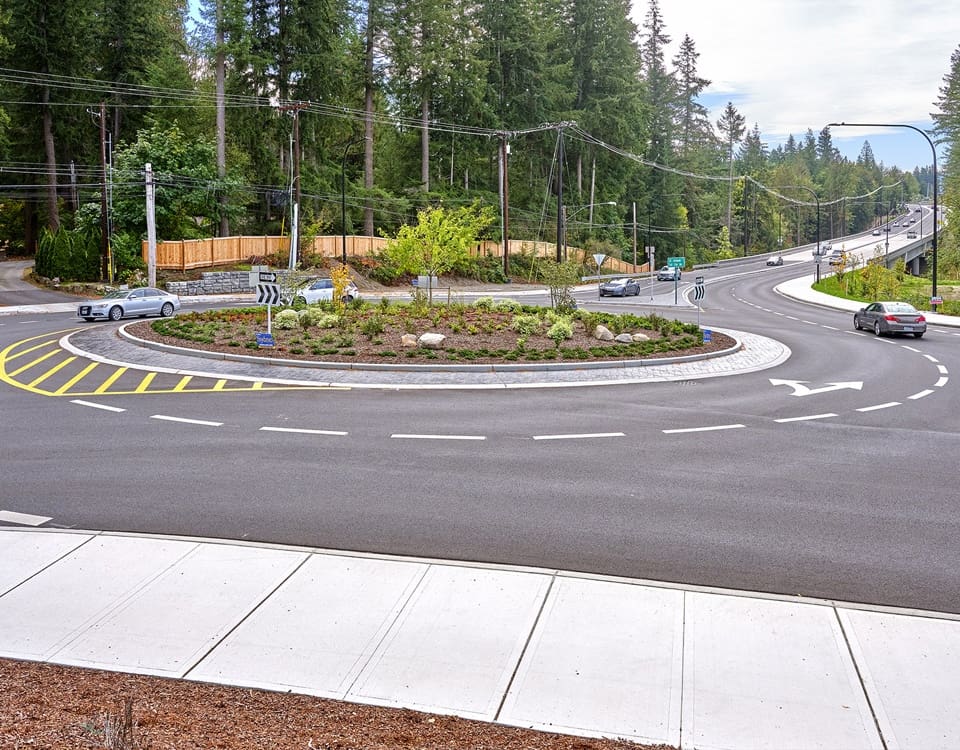 West of 242nd Avenue, Issaquah‐Fall City Road was a four‐lane facility with two travel lanes in each direction and a center turn lane. The road east of 242nd Avenue, however, narrowed to three lanes, which frequently caused traffic backups. To reduce congestion and address level of service issues, the City of Sammamish initiated a project to widen Issaquah‐Fall City Road from 242nd Avenue to Klahanie Drive. Lochner is responsible for the project design.
Tying into the roadway west of the project, Lochner's design plans widened Issaquah‐Fall City Road to include four travel lanes (two in each direction), a raised median, and roundabouts at each major intersection. It also accommodated multimodal access with bike lanes on either side of the road and added either curb, gutter, and sidewalk or a meandering path.
For approximately 900 feet, Issaquah‐Fall City Road had a sag curve vertical alignment running through a stream and wetland area, which was accommodated with a large‐diameter culvert. Lochner's design replaced the culvert with a three‐span bridge and raised the roadway by approximately 15 to 20 feet in this section, eliminating the sag curve, improving the view of the corridor for drivers, and increasing safety.
Additional aspects of the project include LED lighting, landscape architecture, and the oversight of right of way acquisition.