Project Info:
Location: Wake & Johnston Counties, North Carolina
Role: Prime
Owner: North Carolina Turnpike Authority
Client: North Carolina Turnpike Authority
Construction Cost: $2,200,000,000
Services:
Corridor Study
Alternatives Development and Analysis
Environmental Impact Statement
NEPA Documentation
Highway/Roadway Design
Interchange Design
Traffic/Transportation Analysis
Natural Resource Evaluation
Biological Resource Evaluation
Cultural Resource Evaluation
Socioeconomic Evaluation
Wetland Mitigation
Inter‐Agency Coordination
Agency/Stakeholder Coordination
Public Meeting Coordination
Public and Media Outreach Material Development
Graphic Design
DB/P3 Agreement Oversight
Owner/Independent Engineer
Publications:
"Going Full Circle." Roads & Bridges, April 2021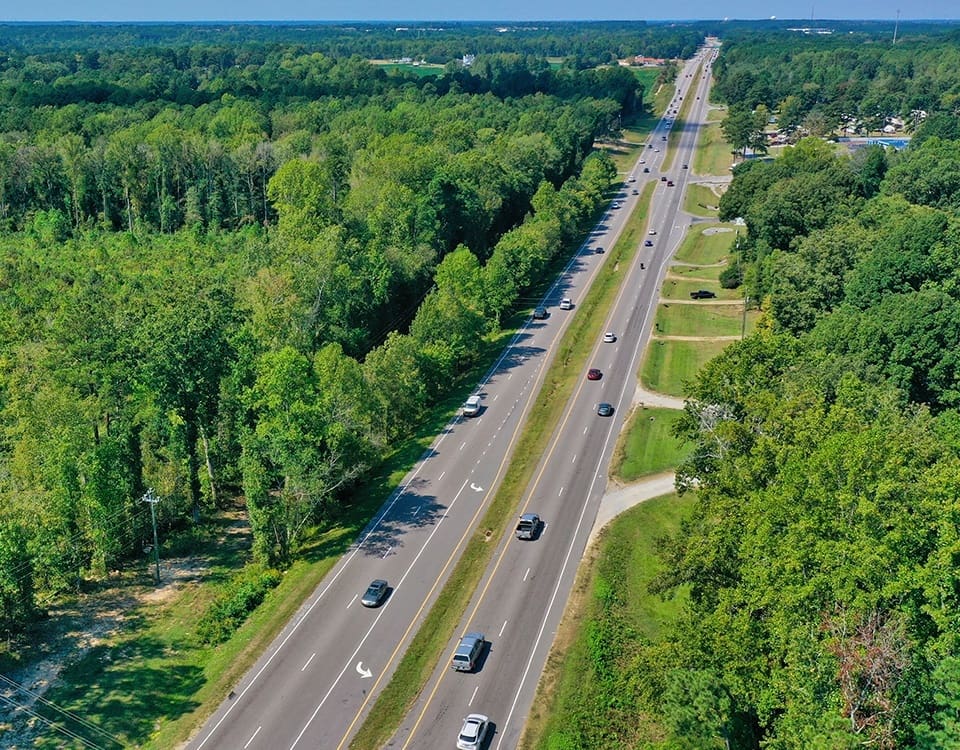 The North Carolina Turnpike Authority, a division of the North Carolina Department of Transportation, is constructing an outer loop expressway (NC‐540) around Raleigh. The northern and western sections of the loop have already been constructed. The 28‐mile, six‐lane Triangle Expressway Southeast Extension will complete the loop. The Southeast Extension with the Western Wake Freeway and the Triangle Parkway encompass the Triangle Expressway, one of the first toll roads in North Carolina. Lochner was responsible for corridor location studies and the preparation of a NEPA environmental impact statement (EIS) for the Southeast Extension. Additionally, Lochner is acting as Owner's Representative during design‐build procurement and is reviewing the final design for roadway and structures.
Lochner utilized traffic/environmental studies and analysis of the road network to design and analyze numerous alternative alignments. In the alternatives analysis and EIS preparation, key areas of study were impacts to wetlands and streams, public parkland, endangered species, residential properties (relocations), and historic properties as well as social and economic effects. Federally protected dwarf wedgemussel and yellow lance as well as other endangered species and their habitats are present in the study area and have the potential to be affected by construction. Lochner oversaw coordination with the U.S. Fish and Wildlife Service to develop strategies to mitigate those potential impacts.
Public participation was a major focus of the study. Lochner led a comprehensive, well‐attended public outreach program to gain feedback and input from local stakeholders. To increase transparency and accessibility in the planning process, Lochner developed a reader‐friendly EIS, tailored to a non‐technical audience, with summarized text and an emphasis on explanatory graphics. Full technical reports were available as appendices. As a result of this effort, Lochner's recommended alignment was the selected alternative for the Record of Decision.