Project Info:
Location: St. George, Utah
Role: Prime
Owner: Utah Department of Transportation
Client: Utah Department of Transportation
Construction Cost: $25,000,000
Services:
Highway/Roadway Design
Environmental Assessment
Alternatives Development and Analysis
Design Management
Stakeholder Facilitation
Hydraulic Modeling
Hydraulic Analysis/Design
Local Municipality Coordination
Public Meeting Coordination
Utility Coordination
Design Review Meeting Coordination and Documentation
Final Plans, Specifications, and Estimates (PS&E)
Engineering Quantity Take‐Offs
Cost Estimate Development
Right of Way Surveying/Mapping
Signal Design
Traffic Forecasting/Modeling
Traffic Impact Analysis/Study
Recognitions:
2018 APWA Southern Utah Branch, Public Works Project of the Year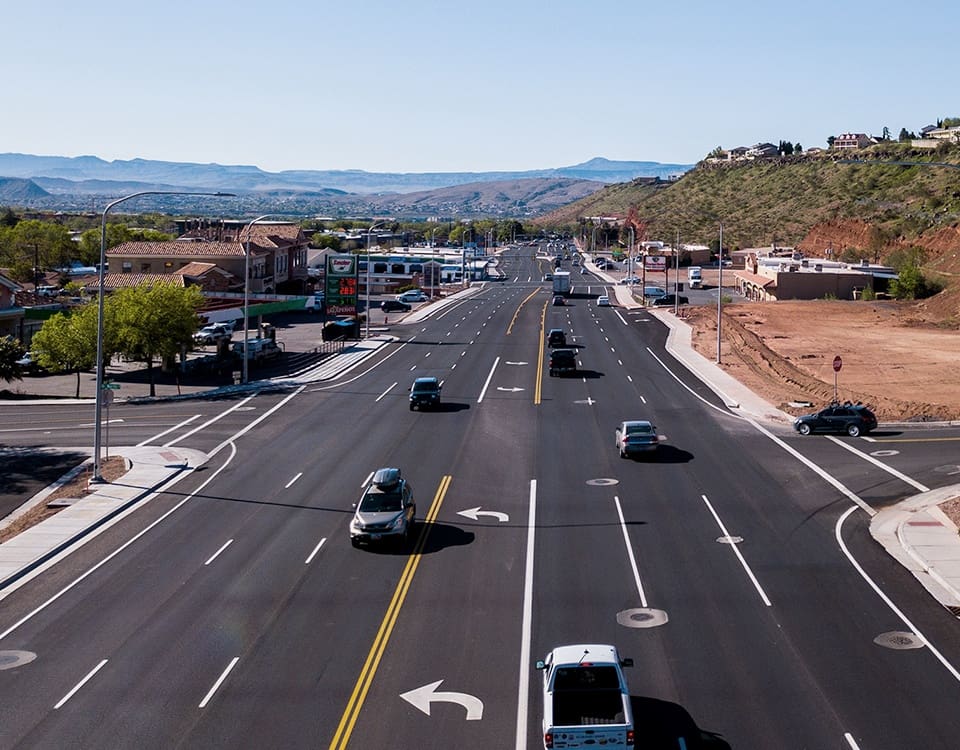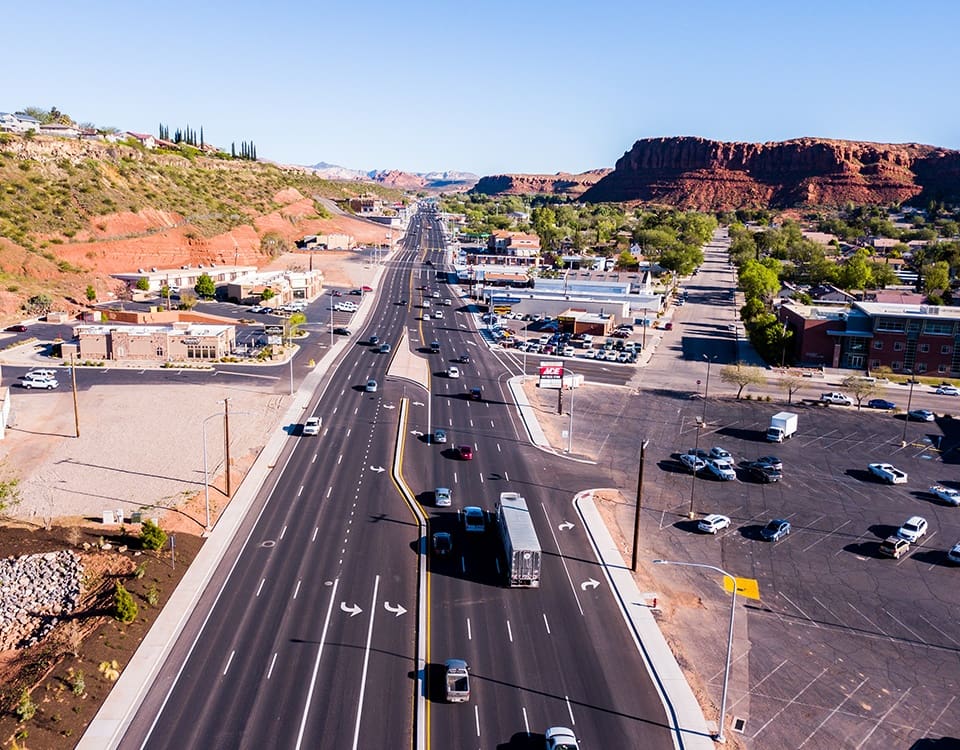 The Bluff Street corridor serves as a vital transportation link in the St. George metropolitan area. Classified as an urban arterial, Bluff Street carries over 44,000 vehicles per day between St. George, its northwest neighbors, and I‐15. As the area's population continues to grow, future traffic volumes are projected to reach 65,000 vehicles per day by 2040. To meet these needs and improve safety for the traveling public, the Utah Department of Transportation (UDOT) undertook efforts to improve the corridor while minimizing impacts and hired Lochner to complete the environmental assessment (EA). In light of Lochner's findings, UDOT decided to look at alternatives to determine how best to meet traffic needs within the available funding levels. Lochner was also responsible for the final design.
Currently, traffic at the intersection of Bluff Street, St. George Boulevard, and Airport Road exceeds design capacity and backups are common. To improve the intersection's efficiency, UDOT made plans to construct a new thru‐turn intersection at this location. Lochner oversaw the subconsultant's performance of traffic analyses and used the data gathered to evaluate the viability of several alternative intersection layouts, including continuous flow configurations from different legs, thru‐turn, flyover, high‐T, and superstreet configurations. We then prepared preliminary design plans and cost estimates, along with determining right of way acquisition needs for each alternative, and submitted findings and recommendations to UDOT.
Lochner then provided final design for the superstreet configuration at St. George Boulevard as well as the widening improvements from 100 South to 600 North. The design for this one‐mile‐long section of roadway added one travel lane in each direction, extending the width from five to seven lanes. Through innovative design, the number of full property acquisitions (or takes) was reduced from nine (identified in the EA) to five actual.